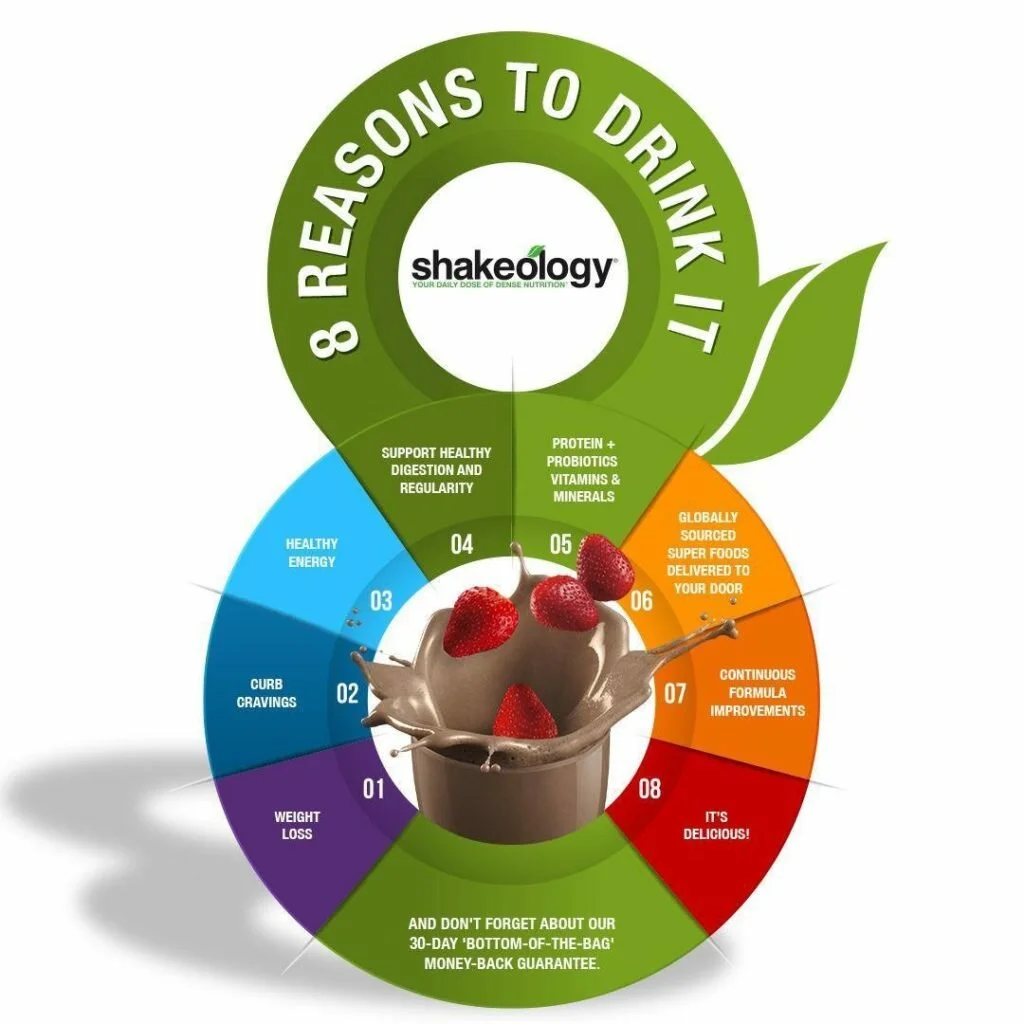 Shakeology® is the most delicious, nutrient-dense, superfood-packed protein shake on the planet. It's made with the healthy stuff you should be eating every day, but typically don't. Shakeology's the perfect combination of proteins, phytonutrients, antioxidants, enzymes, prebiotics, and probiotics. Plus, it also contains many rare ingredients, including adaptogens, camu-camu, and maca root—things we can't get from an ordinary diet. So whether you use Shakeology for weight loss, or drink it to optimize your health, this powerful and delicious shake is Your Daily Dose of Dense Nutrition®.
Why do we need Shakeology? Let's face it, the American diet is terrible. Rarely do any of us eat enough fresh fruits and vegetables; instead, we reach for what's quick and easy—packaged food and fast food—which have been so overprocessed that their nutrients have long been destroyed. The reality is, we're running our bodies on empty. And like a car, we need fuel to go. Good fuel. Not empty-calorie junk. When you start thinking of food as fuel, you immediately realize how important Shakeology is in your daily diet. Because Shakeology is packed with the world's most potent, nutritious, and delicious ingredients, it's the quickest and easiest way to eat healthy, stay satisfied, and live a healthy life.
What are superfoods? Superfoods are what we call the most incredibly healthy foods on our planet. These foods are low in calories, high in nutrients, and go beyond meeting basic nutritional needs. Instead, they have high concentrations of multiple nutrients that work together to support the immune system and help fight aging.*
How does Shakeology compare to other shakes? While other shakes on the market contain a few of the key nutrient groups, Shakeology is the only one that provides them all in one shake! So why does your body need all this stuff? Shakeology's proprietary blend of digestive enzymes, prebiotics, and probiotics helps your body eliminate toxins that have built up over the years due to eating bad food. And its 100% whole-food ingredients fuel your body with essential vitamins, minerals, proteins, and nutrients that the average diet lacks. Here's the bottom line: If you want to live healthy, you've got to eat healthy—and Shakeology is the easiest and most affordable way. That's because Shakeology is NUTRITION SIMPLIFIED.
What about COST? Shakeology simplifies nutrition and makes good "cents." Shakeology costs just over $4 per serving for high-quality antioxidants, powerful vitamins and minerals, more than 70 superfoods, super-greens/ phytonutrients, crucial proteins, essential amino acids, prebiotics, digestive enzymes, good carbs, and low fat. If you purchased each ingredient separately, it would cost more than $700. So while Shakeology might seem expensive at first, really there's no way you can eat healthier and spend less. Many have tried; none have succeeded. That's why Shakeology makes sense out of cents.
I would love to send you a sample of Shakeology. Click the link below to email me and let me know what flavor you want to try: chocolate, vanilla, or cafe latte!
Email Me For a Free Sample
OR